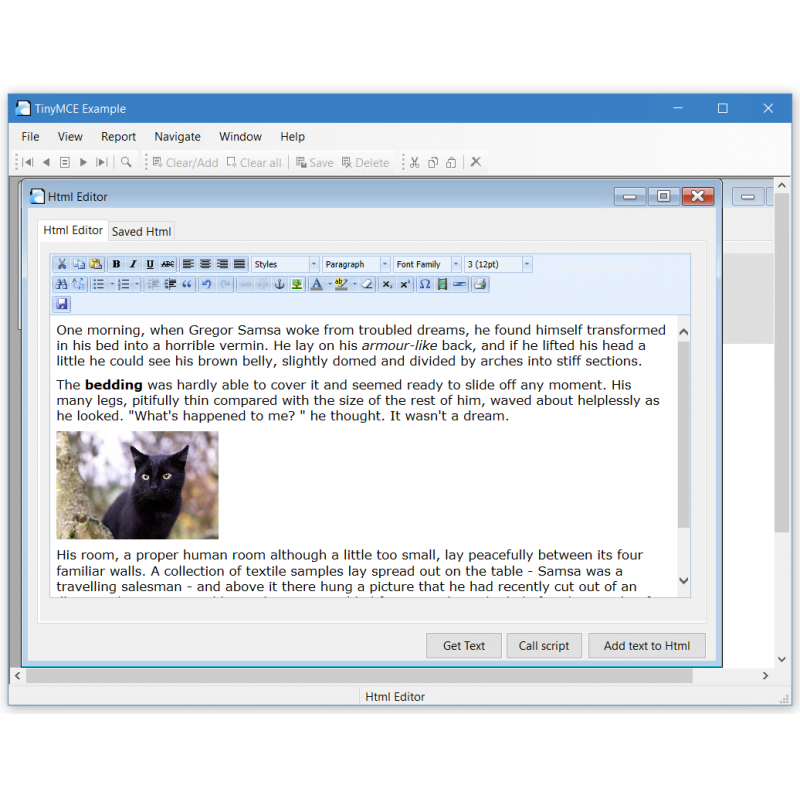  
TinyMCE DataFlex wrapper
The TinyMCE control wrapper is a DataFlex wrapper around the TinyMCE Html editor control. This allows you to be able to edit html files from within your DataFlex desktop application.
TinyMCE is used in a lot of projects. For example in WordPress, Atlassian, Drupal, Zendesk and Microsoft.
Below is a DataFlex 20.0 demo workspace that you can download which is "ready to run".
TinyMceControl-df20.0-demo.zip
This workspace has most of the source so you can inspect how it works. It has a precompiled DataFlex 20.0 64 bit executable so that you can test it if you have a DataFlex 20.0 runtime installed.
As all our wrapper code is in DataFlex you cannot compile the source yourself without buying the wrapper. What you are buying is the DataFlex wrapper code, not the tinyMCE control itself.
See the included word document for the Frequently Asked Questions.
The demo is fully functional.
All prices are including 21% VAT, non Dutch EU companies can get a bill without VAT after supplying a valid VAT tax number during the check out and ordering process.
VAT tax does not apply outside of the EU.

The product is normally send within one working day from the date of purchase.
The price is a one time fee and is for getting access to the DataFlex wrapper code.
Any updates for the same version of the wrapper come free after that. There are no user counting restrictions or any other deployment restrictions.
The fee just helps for being able to improve the control over time and to provide additional support.

The tinyMCE javascript editor can be found in the tinymce folder under the AppHtml folder.

The tinyMCE control itself is open source and LGPL licensed, a license which is free enough to include it in your commercial software without having to buy a license for it. Of course there are also commercial licenses available from tinyMCE if that is what you need.

The AppHtml folder itself also contains a few .html example files that are used in the demo.

The workspace comes with some explanation (see the word document in the root folder of the workspace)
and some extra notes in the readme.txt file.


No customer reviews for the moment.
2 other products in the same category: