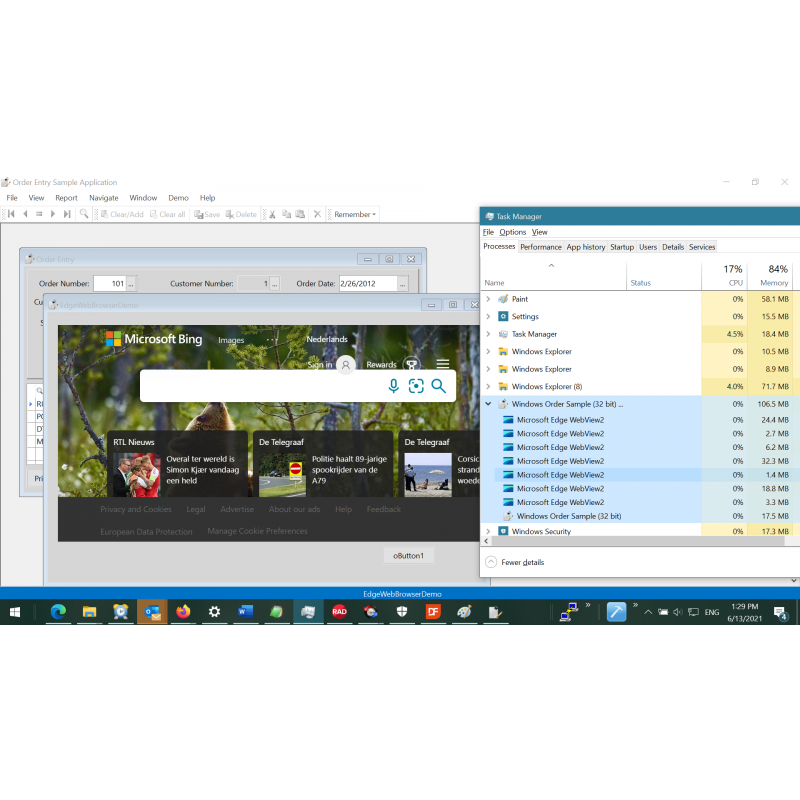  
AntView - MS Edge WebView2 ActiveX
AntView is an ActiveX wrapper for the Microsoft Edge WebView2 control so that it is easy to use from any language that is able to consume ActiveX controls.
This brings modern html & javascript controls to your applications.
We strongly recommend that you test before you try as the installer comes with a 30 day demo license.
The installer is available at the main website for the AntView control: https://antview.dev
All prices are including 21% VAT, non Dutch EU companies can get a bill without VAT after supplying a valid VAT tax number during the check out and ordering process.
The control is licensed per developer, comes with a 1 year subscription for free upgrades & support and has no additional deployment restrictions or deployment cost.
The license is normally send within one working day from the date of purchase.
For developers on Microsoft Windows who are not using a .net programming language, the ability to use a browser control in their application is swiftly reducing. The old Internet Explorer based browsercontrol has been retired by Microsoft and often does not suffice for today's fast changing requirements. There are alternatives based on Google Chrome, but that means a dependency on google and an additional worry about staying up-to-date with the latest security patches.
The answer for that provided by Microsoft is the WebView2 control based on Microsoft Edge. Once you install the evergreen WebView2 runtime, Microsoft takes care of the security updates. This is great, but sadly Microsoft natively only supports C++ and .net for easy consumption in your application.

The AntView control helps to mitigate that gap and can be used from most Windows based programming languages.
The installer comes with demo source code and a 30 day trial license.
Refund policy
The installer comes with a free 30 day fully functional trial license so you can see if the controls functions as expected. After 30 days there will be some popups, but the control is still functional.

Please try before you buy.

If you bought the control and would like a refund then please contact sales within 30 days after purchase and we will refund using a - no questions asked - policy.
Complimentary Support
Licensed users are entitled to support via email and free upgrades for the duration of 1 year.
Update/Upgrade policy
Your license grants you to all updates and upgrades for one year after purchase.
If you want to use the upgrade price then you should buy the update before the support expires.
No customer reviews for the moment.
9 other products in the same category: